Welcome to the PVNC OECTA Website

---
---
2020-2021 School Year Comes to an End
Hello Members,
As this final week of a very unpredictable year closes, I want to commend you on your dedication and hard work, in making things work for the students this year. The expectations were high, and you rose to the challenge. Take this time for a well-deserved break!
I want to acknowledge the St. Mother Teresa staff and Board members, who pulled together a beautiful tribute to Melissa George, OECTA member, who lost her struggle with cancer recently. The service was lovely and thoughtful, and the photos were a nice added touch. Our thoughts and prayers go out to Melissa's family and friends during this very difficult loss.
To our newest members that have survived their first year of teaching with PVNC: Congratulations, you have made it! This will go down as one of the toughest years of education in a while! This is just the beginning of a successful and fulfilling career! Hopefully, normalcy will creep back in, and you will enjoy the comradery of your fellow colleagues, as it should be.
To our retiring members: Congratulations on your retirement! Your career has been a long and successful one, full of triumphs and achievements. You have given so much to PVNC; especially this last year and you have truly earned the right to walk away proud of all you have accomplished. Best wishes to you as you begin this exciting new time in your life. Thank you everyone, we have made it!
Relax, Recline, Rejuvenate
Regards,
Kelly McNeely
PVNC Unit President
class= Big"
Important Dates/Notices
Congratulations to Unit President Kelly McNeely acclaimed to another 2 year term!
OECTA Educating for the Common Good Conference: Better Together, United We Stand! Tuesday, August 17th, 2021 and Wednesday, August 18th, 2021. Click here for registration details. Click here for pragram details.
VISIT THE MEMBERS SECTION FOR THE NEW COLLECTIVE AGREEMENTS
*** UPDATED OCCASIONAL TEACHERS HANDBOOK*** Visit the members section!
Congratulations to our 25 Years of Service Award Winners!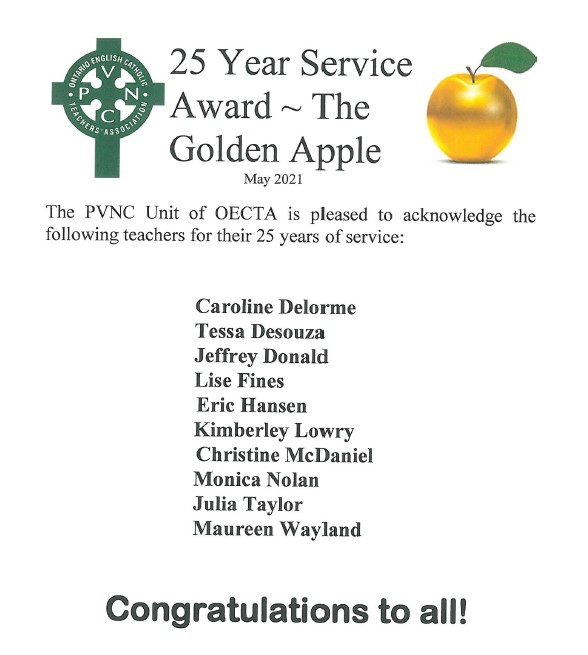 CONGRATULATIONS TO OUR GRADE 8 PVNC OECTA AWARD 2021 WINNERS!