Welcome to the PVNC OECTA Website

---
---
2020-2021 Update
Hello Members,
Happy New Year!
Hopefully, this year will be a year of getting back to some normalcy.
I want to congratulate everyone on stepping up once again to a government that has no respect for teachers. The announcement by the Ford Government, waiting until holidays started, that schools would be closed starting in January and expect a simple flip of the switch to teach online is not acceptable. This government has no idea of the complexities of these decisions and the impacts not only on teachers, but families. Minister Lecce announcing that training took place for remote learning is a joke. The miscommunication is insulting and only adds to the stress of teachers.
I know this has increased stress levels for everyone and I want you to make sure you are taking care of yourself.
I have received word that the first Central Dispute Resolution (CDR) process finally has dates set with an arbitrator. Also, OECTA is planning to move forward with a second CDR and is in the process of gathering information from units.
I want to thank everyone for their courage and dedication to PVNC and to know that the School Reps, Executive, Andy and I are here to assist. We will get through this.
Stay safe everyone,
Kelly McNeely
PVNC Unit President
Important Dates/Notices
Congratulations to Unit President Kelly McNeely acclaimed to another 2 year term!
PVNC OECTA Golf Tournament, Saturday, June 12, 2021 The Quarry GCC, Ennismore.
OECTA Educating for the Common Good Conference: Better Together, United We Stand! Tuesday, August 17th, 2021 and Wednesday, August 18th, 2021. Click here for registration details. Click here for pragram details.
VISIT THE MEMBERS SECTION FOR THE NEW COLLECTIVE AGREEMENTS
*** UPDATED OCCASIONAL TEACHERS HANDBOOK*** Visit the members section!
Congratulations to our 25 Years of Service Award Winners!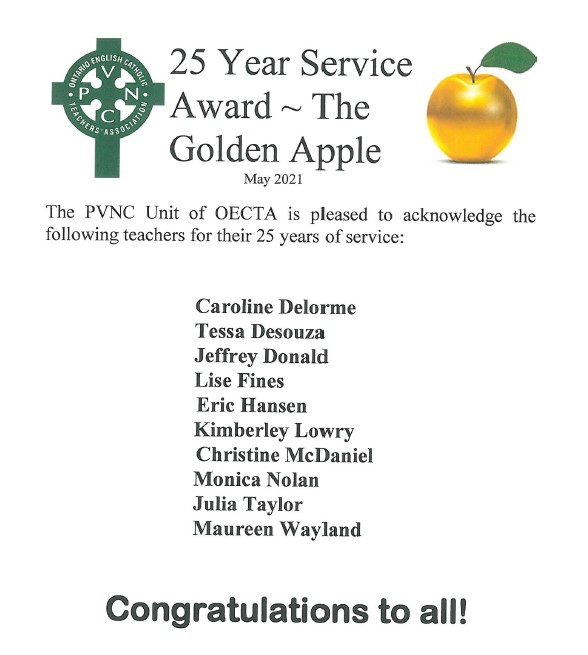 Saturday, June 12th, 2021 PVNC OECTA GOLF!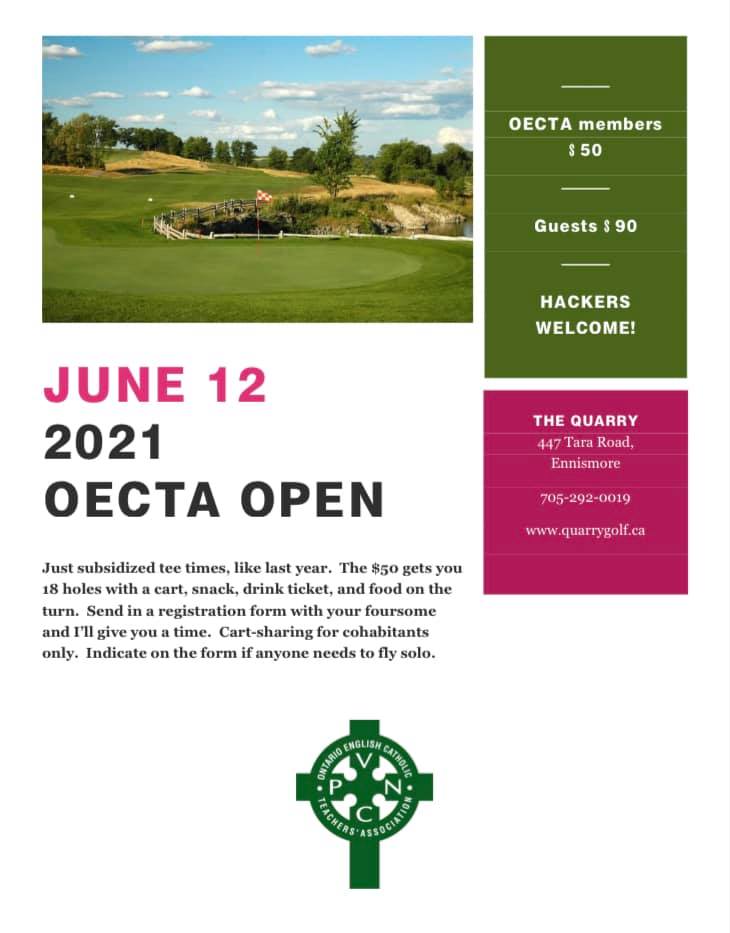 THANK YOU TO ALL EDUCATION AND FRONT LINE WORKERS!