Welcome to the PVNC OECTA Website

August Update
Welcome to all new members and welcome back to all occasional and permanent PVNC OECTA members.
We are entering a new school year with ongoing concerns about Provincial Bargaining. The Provincial Bargaining team has met with the Government and OCSTA for 15 months with little movement on key priorities including working conditions and salary improvements.
A provincial wide strike vote will be held over a 24-hour period, from noon on Wednesday, October 18, until noon on Thursday, October 19. Members will be able to cast votes electronically or by telephone. Taking a strike vote does not automatically mean the Association will go on strike or take any other form of job action.
We are still working with the board on reconciliation of on-call overages in secondary and banked prep owing in elementary from the 2022/23 school year. We will update all teachers as soon as we have more information to share.
Many schools have had significant staffing changes over the summer. If elementary supervision schedules need to be amended, the local school supervision committee should reconvene to address them.
Occasional Teachers are reminded to check their SFE profiles to ensure that all information is accurate for callouts.
We will soon be starting our pizza visits again to your school/location. We are looking forward to being able to see all our members again. We will be in contact soon with Staff Reps to set up a meeting date.

We would like to wish you all a successful start to the 2023-24 school year. We look forward to seeing you in person during our school visits.
Don't let little things become big things! We are here to help. As always, all OECTA members can contact Bart or Andy at any time with any questions or concerns.
Bart Scollard
PVNC Unit President
Important Dates/Information
Staff Reps Meeting Wednesday, September 27th, 4:30pm Best Western Inn, Cobourg
Strike Rally, Wednesday October 4th, Personal Touch Banquet Hall, Peterborough
OTIP Retirement Workshops! Click here for registration details!
VISIT THE MEMBERS SECTION FOR THE COLLECTIVE AGREEMENTS
*** UPDATED OCCASIONAL TEACHERS HANDBOOK*** Visit the members section!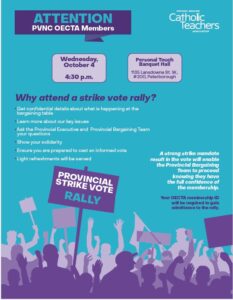 Facebook Feed
OECTA PVNC
Representing over 1200 permanent & occasional teachers servicing 36 schools & 4 counties -Peterborou